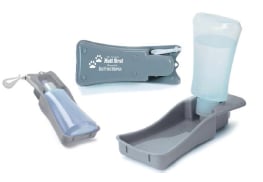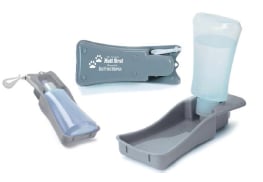 Doggie Travel Water Bottle
$10.00
The Lost Pet Found Pet Doggie Travel Water Bottle is essential to have every time you go out with your pet! Neatly folded, it is seven inches long and two inches high and it can easily fit inside a purse or pack back. It also has a big clip that you can attach to your belt buckle or purse.
It is important to keep your pooch hydrated when you are out and about and just as important, it is a personalized water dish. Colds and other problems could be picked up in a common doggie bowl at parks or on the street.
$5 of your purchase will go to one of the two charities you select.
Lost Pet Found Pet Rescue Fund will donate money to an animal in need of medical attention, shelter or food.
Angelico Cat and Dog Rescue saves stray and abandoned animals in South Florida and is a 501c3 organization.