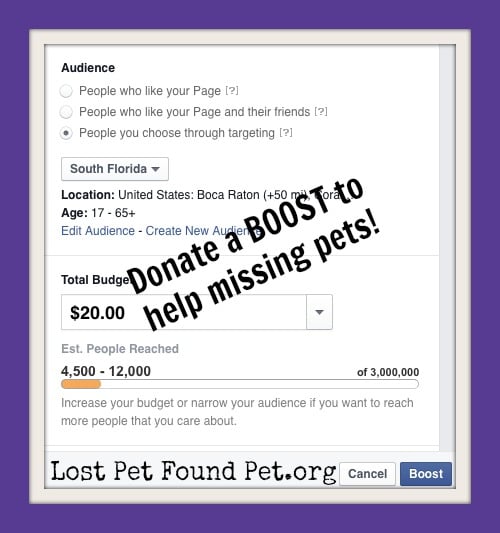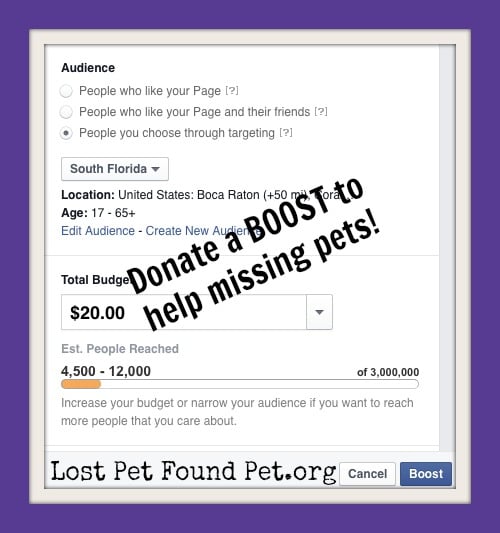 Pay it Forward! DONATE A BOOST.
$5.00
Facebook gives Lost Pet Found Pet the option to BOOST any post on our fan page. We can customize the BOOST to reach cities in your area, states, countries or to reach Lost Pet Found Pet fans and their friends. The paid BOOST runs up to 3 days.
Lost Pet Found Pet is a service at no charge to you. We will BOOST a post when we can. We would like to give you the option to be able to reach as many targeted people in your area as you can with the BOOST feature.
For those who wish to pay it forward....
Many people have requested a link to DONATE towards Lost Pet Found Pet. The greatest give you can give is to PAY IT FORWARD to the next person who is missing a pet. The money you donate in this link will be applied to the next pet or a specific pet of your choice.
If you have a specific pet to BOOST, please include the pet information in the notes at PayPal checkout, email us at Info@LostPetFoundPet.org or send us a private message on Facebook.
And as always, SHARE SHARE SHARE. The Power of the SHARE on Facebook and other Social Media is what brings our babies home to us.